MIR Machining Inc. of Calgary has been providing premium machine shop services to clients in Canada and North America for over 22 years. We offer professional and reliable machine shop services. Our staff has extensive experience with machining parts in the commercial and industrial industries. We've been doing it for over two decades. We also help our customers with:

New Product Development and Consulting
Mechanical Assembly
Part Manufacturing
Contract Manufacturing
Electronics Industry Support
Oil Tool Manufacturing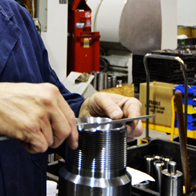 We Use Eco-Friendly Procedures We have implemented very environmentally-friendly practices in our shop. All of our shavings, scrap and used tooling are 100% recycled. Plus, we use the most environmentally friendly fluids and tools that are available to us.
The Oil Industry Is Our Biggest Niche. The bulk of our business comes from machining mass parts for the oil industry. We specialize in down-hole completion and fracturing oil tools. Our Employees Enact and Maintain Superior Quality-Assurance Standards. MIR Machining Inc. has an excellent QA program, whereas many smaller businesses do not. We can tailor our QA programs to your specific requirements. We're Very Solution and Results Oriented. We're here to help. If you're having difficulties, we'll find out what quality, production or delivery problems you're having. Once we know what the issues are, we can address them. Call us today and let MIR Machining Inc. create the solutions you need.